Livestock currently for sale:
*We have 10 roosters that we would like to rehome.  They are a mix of full Red Rhode Islands and one Cinnamon Queen mix rooster.  Some are fully grown, some still growing.
Contact us for details on price and transport.
---
Other Livestock @ShannonFarmz:
List of Shannon Farmz permanent Livestock:
Ben- Tennessee Walking Horse
Oscar- Burro/Donkey
Gizzy Goat- Our very first goat (Nigerian/Pygmy)
White Goat- Gizzy's chosen sister (Full Pygmy)
Giz"Mo" Goat- The mean stinky buck (Nigerian/Pygmy)
Pepper Goat- Our second fully bottle fed goat (Nigerian/Pygmy from Gizzy)
Chickens……about 30
Ducks…….16
Duke- Male Great Pyrenees
Kai-  Female Great Pyrenees
Highway/Tripod- Female Great Pyrenees
*We have livestock come in and out with rescue cases or baby goats born. The number of chickens and ducks fluctuate with sale and nature.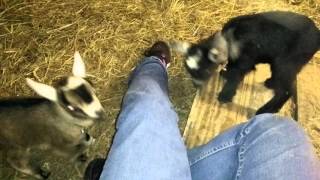 Baby Goat Play
Baby Goat Play

The baby goats are bouncing all over. I love baby goat time!!!